Milan Plast Industrial Group started the production of polymer containers and parts in 1357 and expanded its field of activity in the field of molding. After many years of experience in the production of plastic products, knowing all the production obstacles and mastering the machines of the plastic industry, including injection, blowing, etc., he began to manufacture plastic machines. Milan injection machines using the best CNC machining, in accuracy and speed, with the most reliable
The injection machines of the world's plastic industry are comparable. In line with customer orientation, this group acts by providing timely services including: sales, after sales, warranty, and by employing skilled and efficient human resources. In 2016, due to the high quality and innovation used in its machines, Milan Kala Plast Company was awarded to a few companies
High-tech (Hig…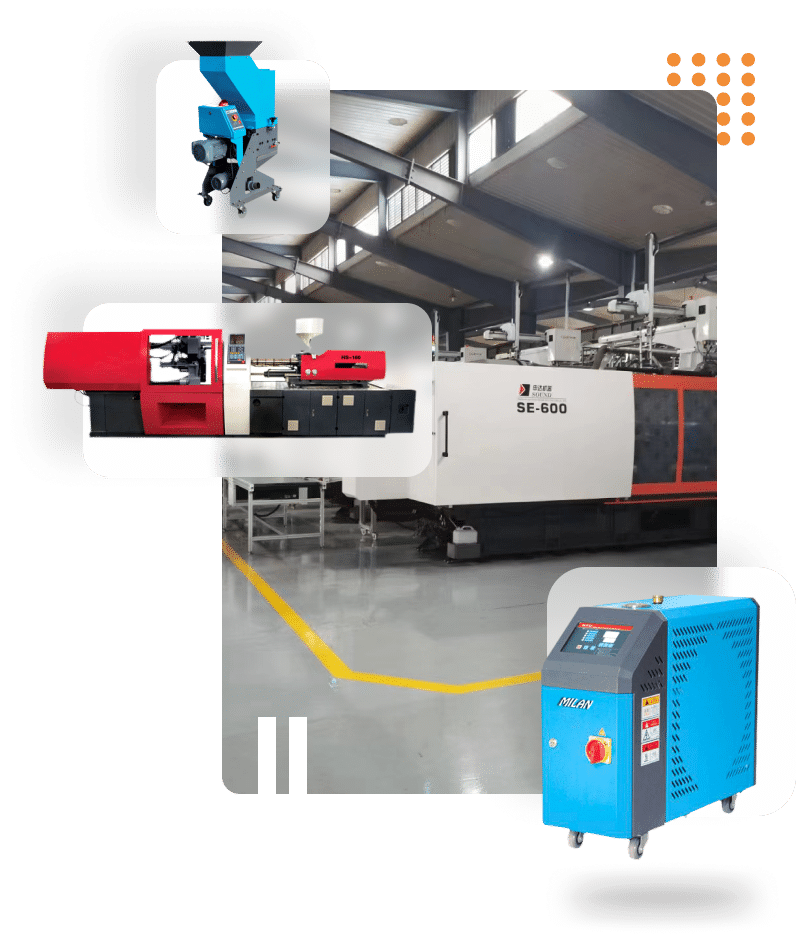 After sales  service online section of Milan Kala Plast
Is ready to offer its services to the honored customers even  on holidays
We fulfill our periodical services ,  Ten  years after sales services and  Two years guarantee 
In Plastic industry and machineries our experienced technicians dedicate the highest quality support  to  earn  customer satisfaction.
The smiles of our customers

Fatemeh hosseini
CEO of Darogar
It was an honor to work with a professional and reliable group, hoping for more and more success...

Reza Ghafari
Product manager of Zarin Chemi
One of my best experiences was working with Milan Kala Company, a professional group with the best experts...

Hassa Eftekhari
Statue product manager
Being the best group that provided their services in a completely professional and specialized manner...

Bahareh Jafari
Ramin Gostar Sharq
We had a history of cooperation with this collection for about 2 years, and the quality of their products and services was truly unrivaled...
Introduction of Sound Company
Sand Company, the founder and pioneer in the plastic injection machinery manufacturing industry in China, was established in 1955. The production plants of this company are built on an area of ​​350,000 square meters in Deqing and Zhejiang regions, and it is one of the largest plastic machinery factories in China.
The design and manufacture of the parts of sand plastic injection machines with innovation are carried out with CNC machines from Japan, Mitsubishi, and German machines, with high precision and quality. and successful throughout Europe, America and all over the world such as: Haier, Ford, Volkswagen, Audi, Kia, BYD, Changan, Geely, Foton Sand injection machines have been chosen to produce some of the artifacts in the automotive industry, household appliances, etc.
Daily news and visas
Find out about our latest news and articles
Mr. Milani's interview with the machine market site about the manufacture and supply of plastic injection machines
Holding an exhibition in Baku by Milan Kala Plast company
Iran Plast International Exhibition seeks to provide a basis for the prosperity of the domestic plastic industry market and facilitate the process of global marketing and the presence of this sector of the country's industry in global markets. Today, this exhibition is considered the largest event of the plastic industry in the Middle East region and is classified among the prestigious exhibitions of the world's plastic industry. This exhibition has passed 13 successful periods The presence of Milan Kala Plast company in this important event and the introduction of the latest plastic injection machines and...